* PLEASE SEE URGENT PROGRAM UPDATE BELOW
Non-Emergency Medical Transportation
Rides to and from the doctor: Explore Our non-emergency medical transportation.
Due to covid-19 masks must be worn at all times.
Due to the current COVID Pandemic, beginning Monday, November 16th, Age Well Senior Services will provide only critical trips to clients needing to be transported to Dialysis Centers, Chemotherapy Treatments and Cardio Therapy. No other non-emergency medical trips will be provided at this time, until further notice. We apologize for any inconvenience that this temporary reduction in service may cause. New applications will be processed beginning December 1st, 2020. 
We will provide additional information on our website when we're ready to operate at full capacity again. Thank you. Stay Safe. Be Well.
accessibility • community • impact
Age Well Senior Services' Non-Emergency Medical Transportation program provides seniors with transportation to their non-emergency medical appointments including therapy, dentistry, hearing, dialysis, prescription pick-ups, testing and x-rays. Professionally trained drivers provide transportation on our modern fleet of accessible buses and vans.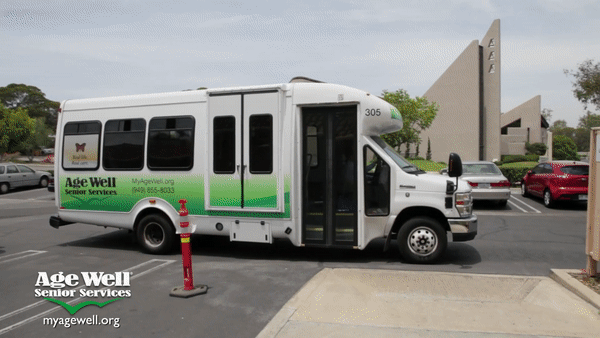 Masks must be worn at all times
Providing seniors to and from their non-emergency medical appointments. Seniors must call to reserve 48 hours in advance. Eligible participants must complete an enrollment form prior to using the service, which can be found below.
areas we serve
Serving Seniors (60+) living in 21 Orange County cities.
Aliso Viejo (92656)
Capistrano Beach (92624)
Corona Del Mar (92625)
Coto De Caza (92679)
Dana Point (92629)
Foothill Ranch (92610)
Laguna Beach (92651 & 92652)
Laguna Hills (92653)
Laguna Niguel (92677)
Laguna Woods (92637)
Lake Forest (92630)

Ladera Ranch (92694)
Las Flores (92688)
Mission Viejo (92691, 92692)
Newport Beach (92660 & 92663)
Newport Coast (92657)
Rancho Santa Margarita (92688)
San Clemente (92672, 92673, 92674)
San Juan Capistrano (92675 & 92693)
Silverado Canyon (92676)
Trabuco Canyon (92678 & 92679)
Who Qualifies?
Participants must be at least 60 years of age and reside within the South Orange County designated service area.

In addition to medical facilities within our service area, this program also serves: Kaiser Lakeview and Kraemer Medical Offices Anaheim, UCI Orange, St. Joseph's Orange, and the VA Long Beach Veterans Hospital. Other destination addresses that fall outside of the designated service area are limited to maximum trip length of 15 miles from the client residence to the medical facility.​
Clients are limited to a maximum of 16 one-way trips per month (or 8 round trips).
How do i enroll?
To enroll follow these three steps:
cost of rides
Cost: Participants pay $ 2.00 per trip. Caregivers, spouse, companions travel free – three per member.
Please keep in mind that participants are limited to a maximum of 16 one-way trips per month (or 8 round trips).
program hours + Scheduling
Program hours are Monday through Friday, 7:00am – 6:00pm (excluding observed holidays).
Rides must be scheduled at least 48 hours (2 business days) in advance and will be subject to availability. 
Observed holidays: New Year's Day, MLK Jr. Day, President's Day, Memorial Day, Independence Day, Labor Day, Veteran's Day, Thanksgiving (Th, F), Christmas Day .
To enroll follow these simple steps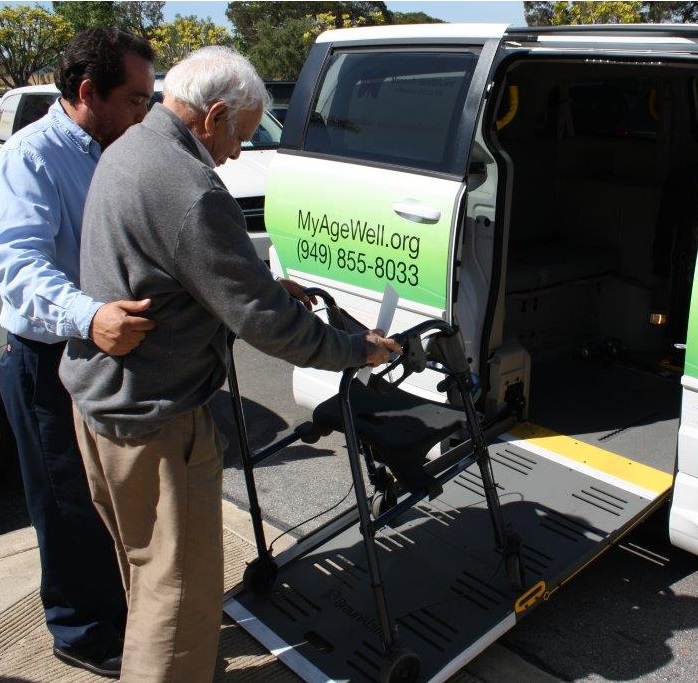 I have appreciation for the transportation that I receive in order to take myself to the doctor's. It is so important to make sure that I am able to get to my doctor's appointments and thanks to you all of the stress of figuring out my transportation has been solved. So thank you from the bottom my of heart."
Stay up to date with the latest program information and community support by following us on social media.