Non-Emergency Medical Transportation
Rides to and from the doctor: Explore Our non-emergency medical transportation.
Due to covid-19 masks must be worn at all times.
We are currently providing rides to Age Well Vaccination sites, listed below.
accessibility • community • impact
Age Well Senior Services' Non-Emergency Medical Transportation program provides seniors with transportation to their non-emergency medical appointments including therapy, dentistry, hearing, dialysis, prescription pick-ups, testing and x-rays. Professionally trained drivers provide transportation on our modern fleet of accessible buses and vans.
Página de Español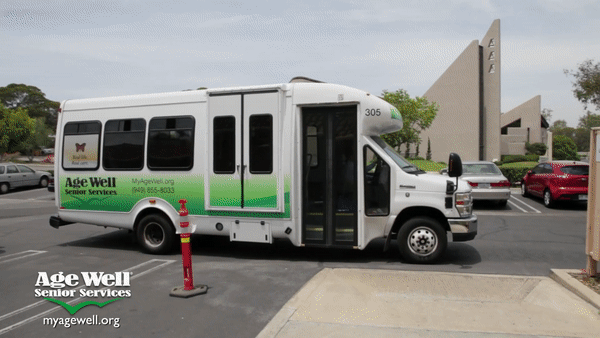 Masks must be worn at all times
Providing seniors to and from their non-emergency medical appointments. Seniors must call to reserve 48 hours in advance. Eligible participants must complete an enrollment form prior to using the service, which can be found below.
We are currently providing transportation to Vaccination Appointments at the following locations:
Please schedule your rides according to normal procedure. To apply, please see our how to below (scroll down). To sign up for your vaccine visit
myturn.ca.gov/
areas we serve
Serving Seniors (60+) living in 22 Orange County cities.
Aliso Viejo (92656)
Capistrano Beach (92624)
Corona Del Mar (92625)
Coto De Caza (92679)
Dana Point (92629) Foothill Ranch (92610)
The City of Irvine
Laguna Beach (92651 & 92652)
Laguna Hills (92653)
Laguna Niguel (92677)
Laguna Woods (92637)
Lake Forest (92630)
Ladera Ranch (92694)
Las Flores (92688)
Mission Viejo (92691, 92692)
Newport Beach (92660 & 92663)
Newport Coast (92657)
Rancho Santa Margarita (92688)
San Clemente (92672, 92673, 92674)
San Juan Capistrano (92675 & 92693)
Silverado Canyon (92676)
Trabuco Canyon (92678 & 92679)
Who Qualifies?
How do i enroll?
cost of rides
program hours + Scheduling
To enroll follow these simple steps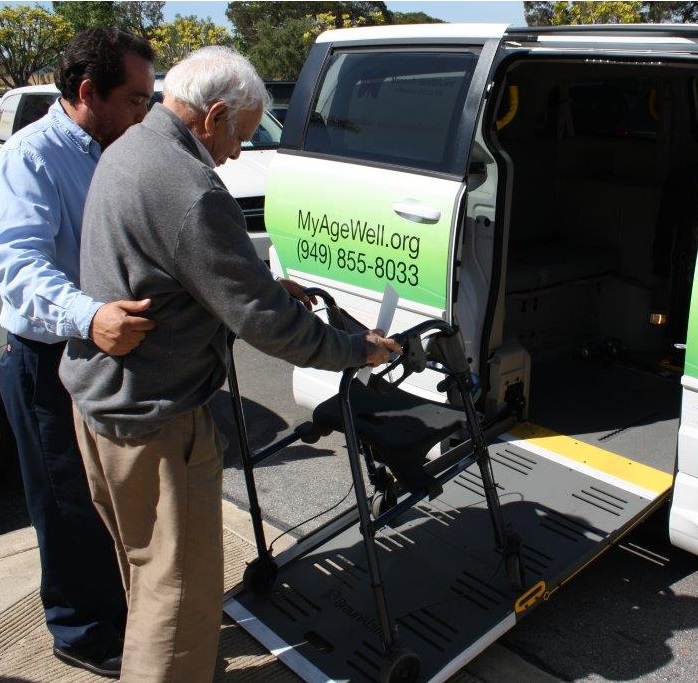 I have appreciation for the transportation that I receive in order to take myself to the doctor's. It is so important to make sure that I am able to get to my doctor's appointments and thanks to you all of the stress of figuring out my transportation has been solved. So thank you from the bottom my of heart."
Stay up to date with the latest program information and community support by following us on social media.