Stay connected while staying home with online events, classes, exercise & more.
Since we can't meet in person, we've established a way to stay connected while staying home!  Introducing the online event portal, where you can enjoy classes and activities from the comfort of home. These classes and workshops will cover health & wellness, music & entertainment, fitness & activities. Learn something new, stay active, or simply find new methods of entertainment. These events are updated weekly and open to everyone, all you have to do is RSVP!
November 10 at 4:30 – 5:30 PM Chapters 20-38
October 27 at 4:30 – 5:30 PM 1-19 Chapters
Join us virtually where during October & November, we will be discussing the book 'The Immortal Life of Henrietta Lacks'. This is a bi-monthly event, but you're welcome to join even if you miss one event! This is hosted by UCI Dialogue Society.
November 24 at 4:30 – 5:30 PM | Chapters 1-4
December 8 at 4:30-5:30 PM | Chapters 5-8
Join us virtually where during the month of November – December, we will be discussing 'The Graveyard Book'. This is a bi-monthly event, but you're welcome to join even if you miss one event! This is hosted by UCI Dialogue Society.
November 19 at 10:00 AM – 11:30 AM
Join us virtually for a special storytelling event hosted by Dialogue Society's USC Chapter (in collaboration with their UCLA chapter!)

An engaging group discussion about life that you won't want to miss. We will be discussing experiences, memories, childhood, friendship, feelings, traditions, songs & hindsight!

We hope to see you there (virtually) – all you need is your computer to join! Zoom Meeting ID listed below. Please call. if you have any questions.
Join us every Sunday starting March 14th from 3:00 – 4:00 PM
Join young musicians from the Orange County School of the arts in an incredible musical journey! No fee to join!

Gain a deeper understanding and appreciation of music with weekly music listening, music theory, and composition classes!

A fun weekly learning & social experience you won't want to miss!

If you have any questions or need help with ZOOM please feel free to email or call us before the session sowe can assist you!
First Discussion December 16th: 4:30 – 5:30 PM
Sections 1 & 2: Feathers from a Thousand Li Away & The Twenty-Six Malignant Gates


Second Discussion December 30th: 4:30 – 5:30 PM
Sections 3 & 4: American Translation & Queen Mothers of the Western Skies
Come join Dialogue Society of UCI in our bimonthly discussions! During the month of December, we will be talking about Amy Tan's novel: The Joy Luck Club.
Dialogue Society Online Book Club!
Join us January 13th from 4:30-5:30 PM!
January 27th 4:30-5:30 PM!
Come join Dialogue Society at UCI where during the month of January, we will be discussing Lord of the Flies!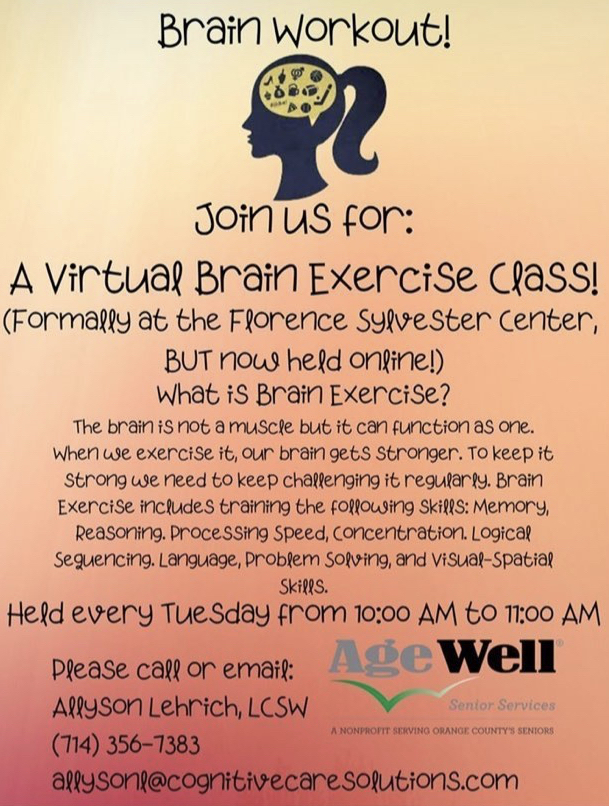 Every Tuesday 10:00 AM to 11:00 AM 
The brain is not a muscle but it can function as one. When we exercise it, our brain gets stronger. To keep it strong we need to keep challenging it regularly. Brain exercise includes training the following skills: memory reasoning, processing speed, concentration, logical sequencing, language, problem-solving and visual-spatial skills.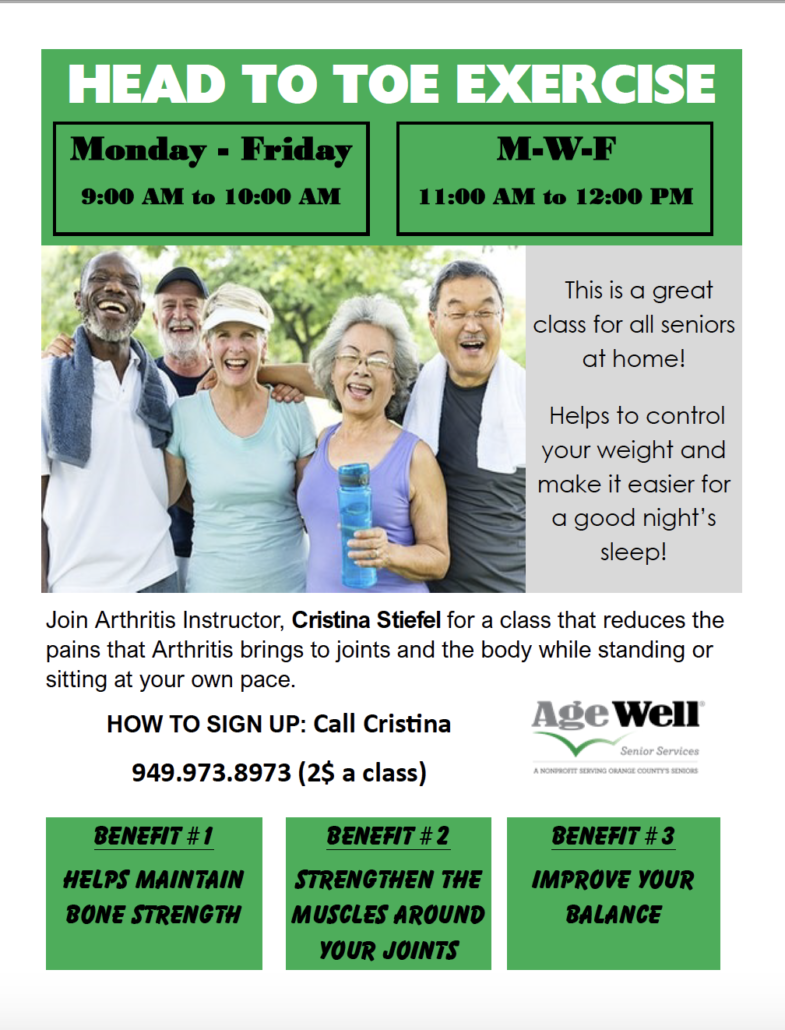 Monday – Friday 9:00 AM to 10:00 AM
M-W-F 11:00 AM to 12:00 PM
This is a great class for all seniors at home! Helps to control your weight and make it easier to get a good night's sleep! Join Arthritis Instructor, Cristina Stiefel for a class that reduces the pain that arthritis brings to the joints and body while standing or sitting at your own place!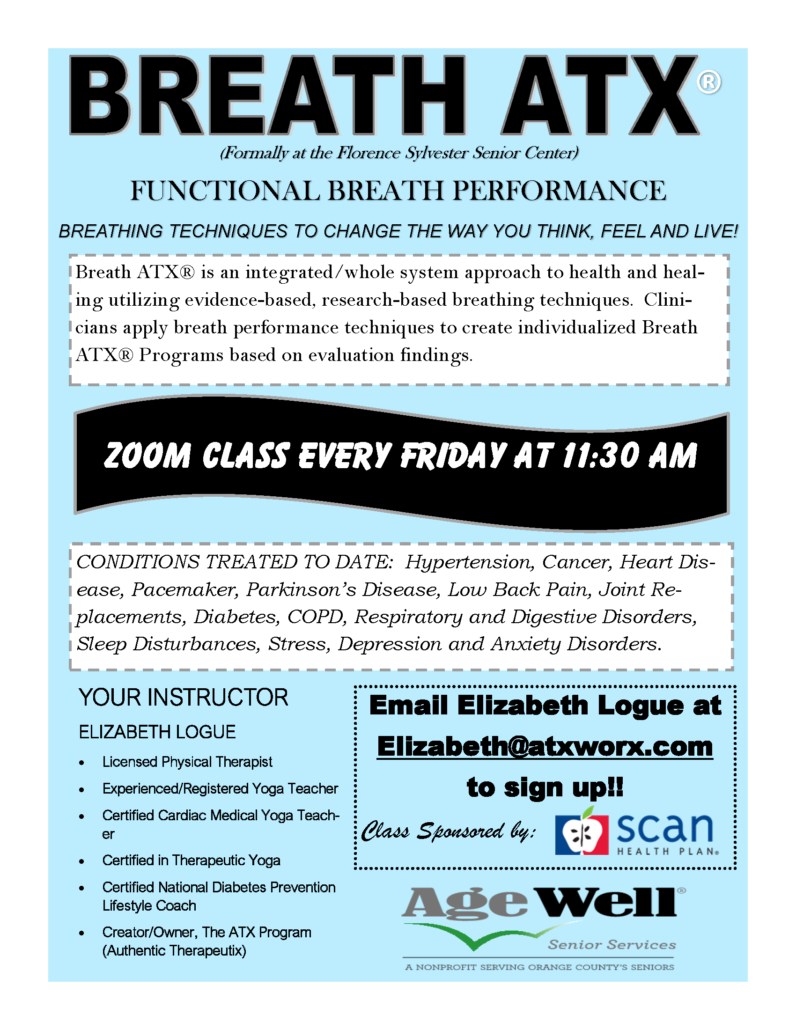 Breath ATX Functional Breath Performance
Breath ATX is an integrated/whole system approach to health and healing. Utilizing evidence-based, research-based breathing techniques. Clinicians apply breath performance techniques to create individualized Breath ATX Programs based on evaluation findings.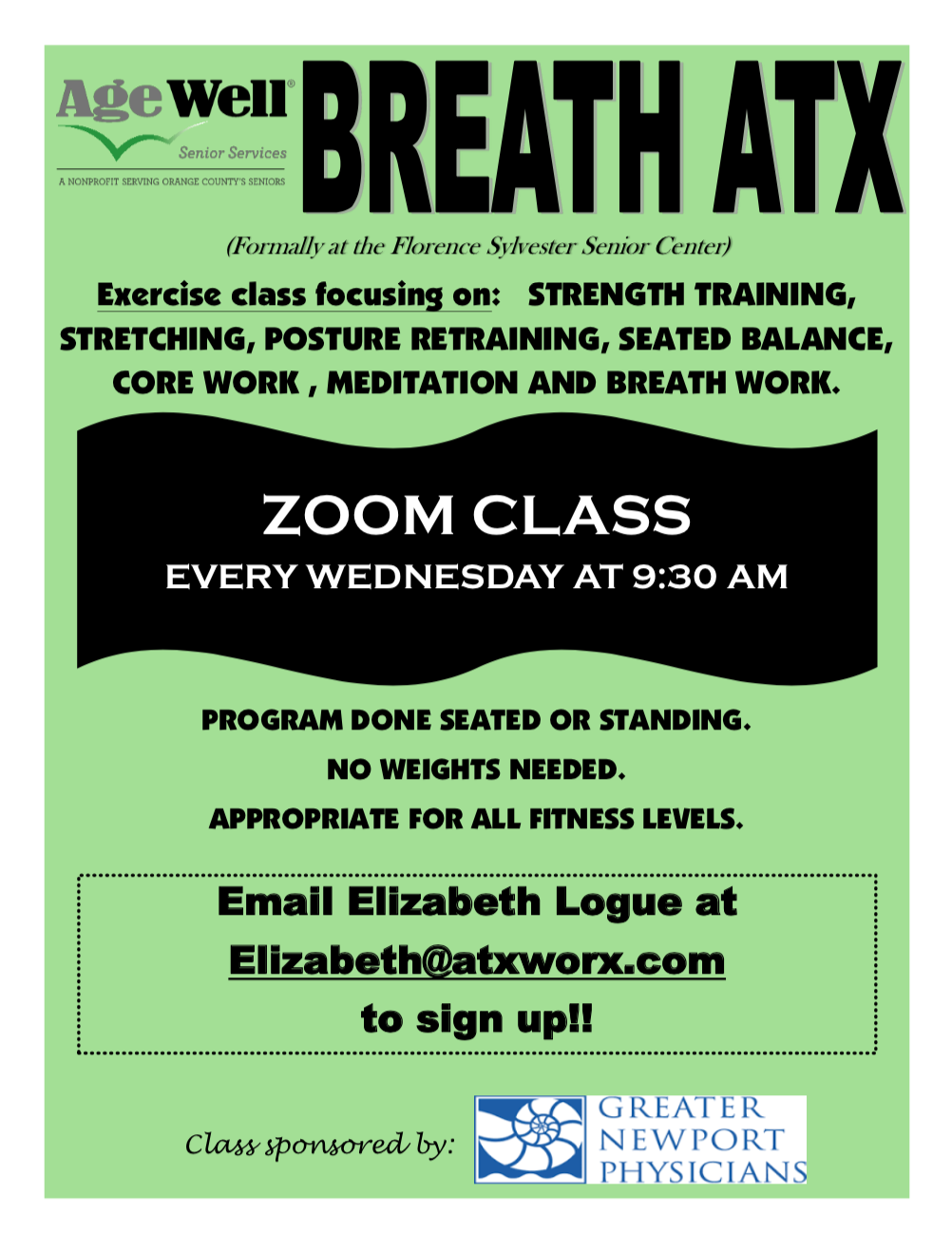 Every Wednesday at 9:30 AM
Formerly at Florence Sylvester Senior Center – Strength Training, Stretching, Posture Retraining, Seated Balance, Core Work , Meditation & Breath Work!
Program done seated or standing. No weights needed. appropriate for all fitness levels.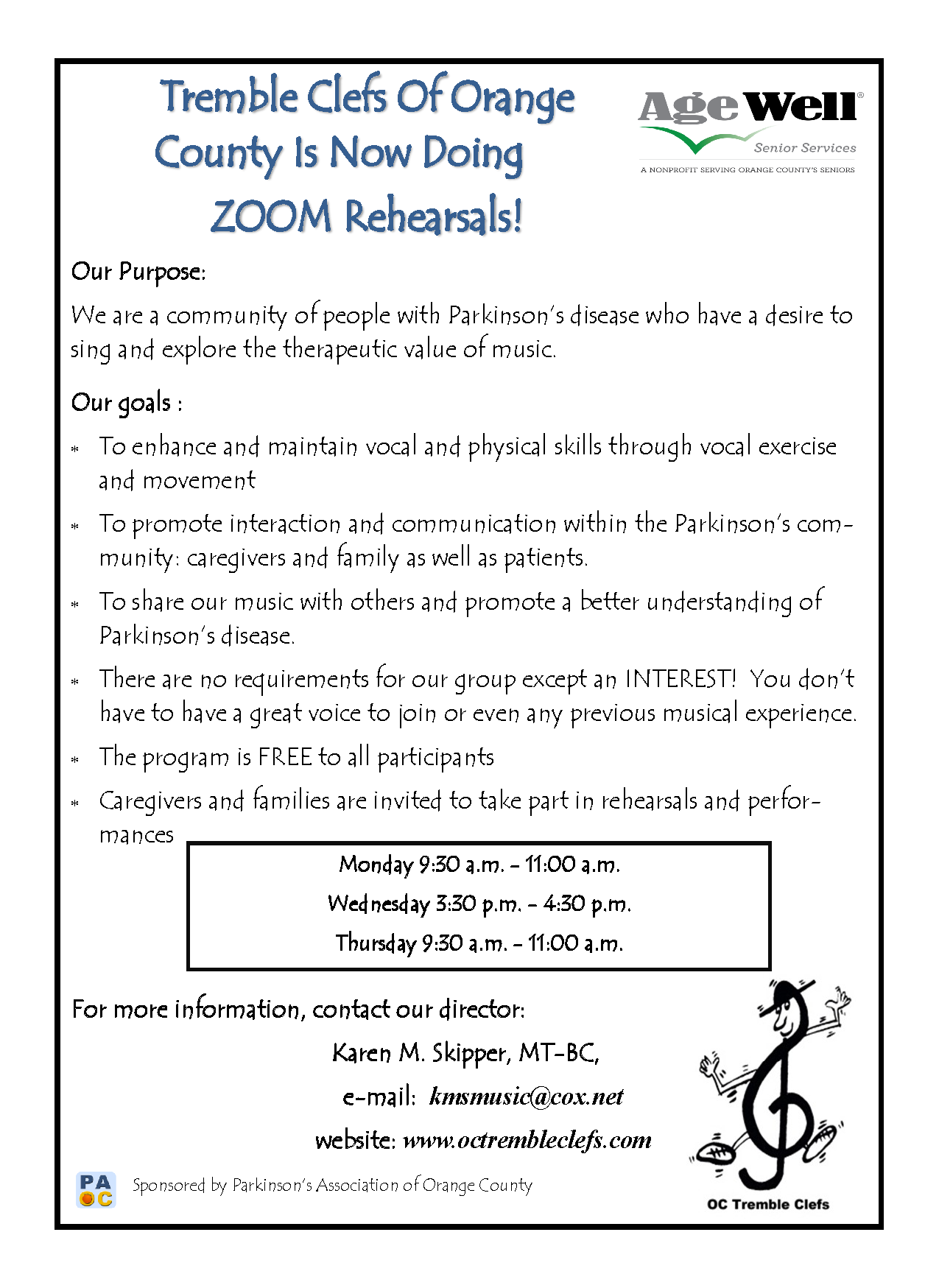 Monday 9:30 AM – 11:00 AM
Wednesday 3:30 PM – 4:30 PM
Thursday 9:30 AM – 11:00 AM
Our Purpose: We are a community of people with Parkinson's disease who have a desire to sing and explore the therapeutic value of music
Our Goals:
• To enhance and maintain vocal and physical skills through vocal exercise and movement
• To promote interaction and communication within the Parkinson's com-munity: caregivers and family as well as patients.
• To share our music with others and promote a better understanding of Parkinson's disease.
• There are no requirements for our group except an INTEREST! You don't have to have a great voice to join or even any previous musical experience.
• The program is FREE to all participants
• Caregivers and families are invited to take part in rehearsals and perfor-mances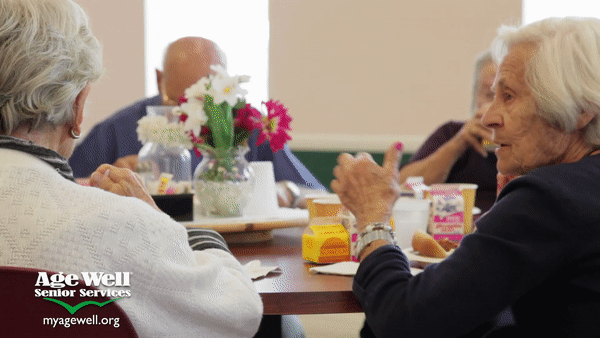 WANT MORE COMMUNITY INFO?
Do you have a class or program you think Orange County's seniors would benefit from? We'd love to hear about it!