Our SpringGive 2019 campaign begins May 8.  Help us reach our goal!  Your donations help us continue to provide hot meals, personal contact visits, and vital services for seniors in need. Our goal is to spread awareness and raise money to provide services to seniors in our community. Age Well Senior Services is a 501(c)(3) nonprofit organization.
Please share this page with your family and friends. Your involvement is critical to our success and will directly impact our OC senior community. Thank you again for your help.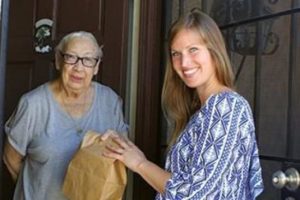 Meals on Wheels
Last year we delivered over 340,000 meals to our O.C. seniors. Half of all our Meals on Wheels recipient's live alone. Their only daily contact is from our Age Well volunteer. Please help us continue to provide nutritious & filling meals and visits.
Transportation
Thousands of seniors depend on us to get them to dialysis , cancer treatments and doctor appointments. The sharp rise in fuel costs has greatly impacted our services. Your donation could provide rides for critical services.
Where Most Needed
Due to increased in demand for all our services, we have had to begin waitlists on some programs. Your donations will assist our baseline in providing services most needed.
I have good news and I have bad news: We are living longer. 
That's great, right? More people are living into their eighties, nineties, and longer, right here in Orange County. Many older people are able to stay in their homes and participate in community life as they age. That's good news for seniors and our community.
So, what's the bad news? Many people are living past their ability to care for themselves. They are outliving their family and friends. Their health is failing, their money is gone, they're stuck at home, and they're not eating right. They are faced with unfair choices between expensive prescription drugs, food, and the high cost of housing. After decades of overcoming some of life's toughest challenges, they face their greatest crisis while isolated and alone.
We urge you to join us for our Spring Give campaign and donate today.
Is this donation tax deductible?
Age Well Senior Services is a 501(c)3 tax-exempt organization and your donation is tax-deductible within the guidelines of U.S. law. To claim a donation as a deduction on your U.S. taxes, please keep your email donation receipt as your official record. We'll send it to you upon successful completion of your donation.
Looking for other ways to give?
Please give us a call at (949) 855-8033 or mail a check to "Age Well Senior Services" at 24461 Ridge Route Drive, Suite 220, Laguna Hills, CA 92653. Thank you for your support.